Obedience
Update and News
I have trained Ari with Shirley Clowes since he was a little puppy. I can really tell the difference between Ari and Rupert as Ari was started using Shirley's methods whereas Rupert is a cross-over dog. Ari has so much more in the tank! We did some KC Good Citizen Pre-Beginner Stakes classes in 2007 for training and to get him used to Obedience shows. 2008 is his debut year and first proper season. At his very first show, Preston & Fylde GSD Club, he won out of Pre-Beginners beating his older brother into 2nd place. So now we need to start training for Beginners and Novice.
Ari ready for heelwork

Ari doing some pretty good heelwork!

Reward Time - Chuck-It circuit!
Chesvale DTC Obedience Open Show (May 2007)
Ari's first Obedience show was Chesvale on 6th May 2007. He was drawn first in the KCGCDS Special Pre-Beginner Stakes Part II so we were first to work. He was a little star and so enthusiastic. He only lost 2.75 marks (the lowest of my 3 dogs on the day). We lost 2.25 on our heelwork and 0.5 on our recall. When we came out of the ring then the other people waiting to work were very complimentary - someone said "How are we supposed to follow that!" which was nice.
I decided not to present Ari for the stays. I didn't believe that he was ready for group stays and learning from Rupert's first show decided to be very happy with the round he worked rather than spoiling it with a broken stay. If Ari had done a clear stay then we would have had to run-off for 4th place - not bad for a 14 month puppy at his first show!
Petersfield & District DTC Championship Show (June 2007)
Ari's next Obedience outing was at Petersfield, again he was entered in the KCGCDS Special Pre-Beginner Stakes Part but this time we were not in the running order. It was a very hot day and Ari was extremely distracted so I took the opportunity presented by the Training Ring (what a great idea) and got him settled down ready for the stays. My first thought was to train stays outside the ring but when I was setting him up he was really chilled so we did our first proper Stays - 1 minute position of choice. I am very proud to say that he was clear. It was very hot when we worked our round later, during the "Motivate your Dog" exercise he disappeared under the table to lie in the shade (not daft these Tollers) but after a erractic heelwork round he settled in to do a nice recall and a perfect gate.
Hatchford Brook Championship Obedience Show (August 2007)
It was very sunny and windy at Hatchford Brook but Ari was clear in his Stays for the KCGCDS Pre-Beginner Stakes. I was especially pleased with him as he was in the same class as Rupert so they were both in the same Stays. Not a problem though, the Stay Steward told me that neither of then "moved a muscle" - clever boys!
After the stays I worked Ari's Stakes round. He did a lovely round and was clear in everything but the Heelwork. We lost 6 on the Heel on Lead but then Ari got very distracted by a dog sat by the ropes waiting their turn. The good news is that he did come back into the heelwork when reminded - he is still very young at 16 months.
At the moment we are just using the Stakes classes to get Ari some ring experience and everything is looking good for some "proper" classes next year.
Preston & Fylde GSD Club Open Obedience Show (June 2008)
Ari made his proper Obedience debut at Preston & Fylde GSD Club where we were drawn 3rd in the ring. The second draw was absent so all too soon we were in the ring. He did me proud with lovely attention and enthusiasm. He lost 2.5 on Heel on Lead, 1.5 on Heel Free and then a half on his Recall (which was slightly enthuiastic and he ended up on my foot!. This put us into the lead with 4.5, we were still leading when I worked his older brother, Rupert, later in the morning. Rupert was only half a mark wide of Ari and went into second place were the pair of them sat all day after they were both clear on their Stays. The Judge and Steward found it hard to believe that it was his first proper round and I was very proud of him and his brother. I felt very greedy during the presentation as Ari not only won a lovely large red rosette but also a prize card, a trophy and another rosette for the Best Gundog. His score also qualified him for a KC Obedience Award of Merit in Pre-Beginners. As Rupert also won a lovely rosette, trophy and prize card I was glad of a friend's help to get it all back to the van!
Ari has taken all of us out of Pre-Beginners and earnt himself an Obedience Excellence Award so I can now proudly add "P-Beg Ex." after his name.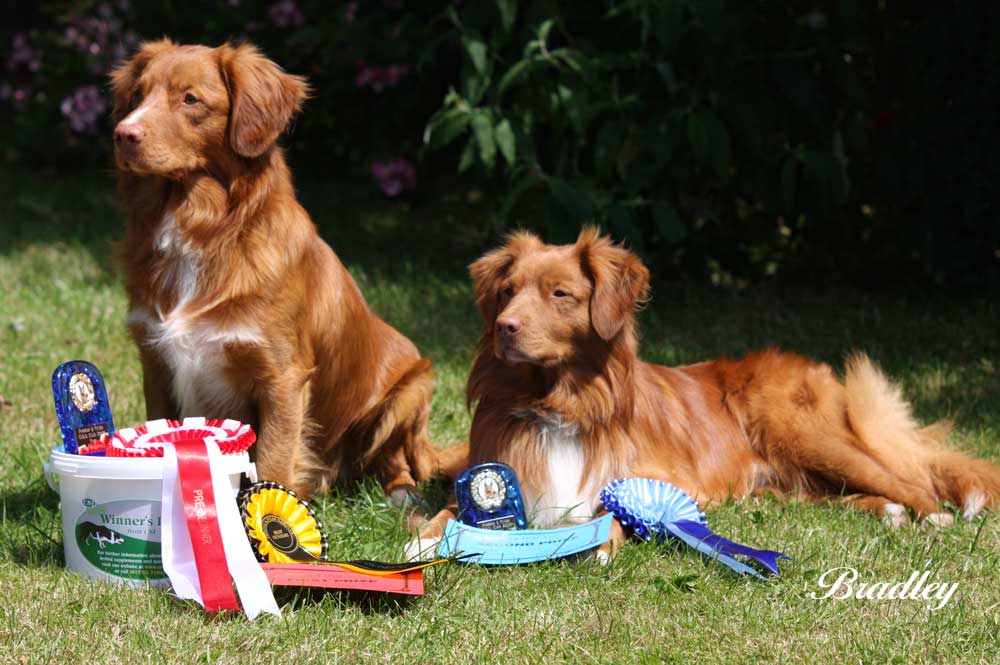 Kennel Club Good Citizen Dog Scheme
Ari passed his Bronze Good Citizen Test at Toller Funday, July 2006, when he was only 16 weeks old. We finally got the opportunity to have a try at Silver at the Finnish Lapphund Club of GB Open Show, September 2008, and he passed!
Copyright Rachel J Bradley 2006-9