Agility
Rupert started agility training when he was 18 months old. Agility was originally supposed to be our fun night out but, as anyone who does the sport knows, it is rather adictive and we did some competitions. Rupert is currently having a rest from Agility to concentrate on Obedience and Rally.
There is a real incentive for Toller owners to get out there and do some agilty as there is a dedicated Toller Agility League. News of this can be found on the NSDTR Club website or at Agilitynet. Rupert was 6th in the Non-KC competition for the 2007/2008 season.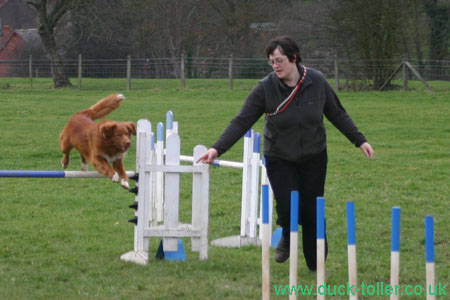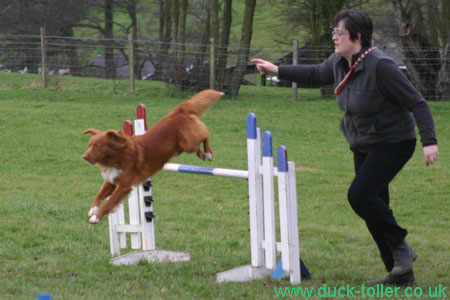 Starters League
2006/2007
Rupert is on the Bromsgrove Team for the Three Counties Starters League. Also on the team are my Mum and her Cavalier cross, Toby.
2006/7 Season - As a team of Novices our aim was to get out and enjoy ourselves whilst gaining some competition experience. We certainly achieved the fun part and were all proud of our 8th Place (last) Rosettes at the end of the season.

Home to Prestbury Park - 12th Nov 2006
Today was our first ever agility competition, we were eliminated on all three of our runs but we did enjoy ourselves.

Away to South Cotswolds - 14th Jan 2007
Our second match and we did much better and completed all three of our runs. In the Agility we were 12th with 17 pts (2 x 5R + 7 time faults - oops!) but in the Jumping and the Relay we did much better with 5R in each giving us 12th place in the Jumping. Bromsgrove won the Relay so we were all very happy.

"Home" to South Cotswolds - 10th Feb 2007
Our third match, held back at South Cotswolds owing to the weather. Rupert got his first ever clear round making us 6th overall in the Agility. We made course errors in the Jumping and the Relay so were eliminated but we were still equal 13th in the Jumping. My Mum was running her cross-breed, Toby, and he completed his first agility course without being eliminated and was 10th - congratulations both! Bromsgrove lost the match but we are getting closer.
2007/2008
Rupert and Toby are on the Team again for the 2007/2008 season. Our first match was an away fixture to Dordale, just after a long lay-off from training. Our lack of practise showed as we were eliminated on all three of our runs but that means the rest of the season can only show an improvement. Unfortunately injury stopped us from competing for the rest of the season.
2008/2009
Rupert and Toby are flying the flag for Bromsgrove again in the 2008/2009 season. Rupert missed the first two fixtures which were away to Worcester and Golden Valley. Toby made them but is now unfortunately out of action with a cruciate injury. Rupert is looking forward to our next fixture on 11th January 2009. Bromsgrove is plaqued with injury at the moment so get well soon to Blue, Barney & Toby - we need you!
With the snow at the beginning of the year our next fixture wasn't until 25th January when we were at home to Dordale. We didn't exactly set the world alight on our return to the team with an E in the Agility and 5 in the Jumping BUT we went clear in the Relay. The final result was Bromsgrove 126 to Dordale 162. It was actually a very close match as we won the Jumping - the first time we have done this in al the time I've been in the team and were very close in the Relay.
On the 8th February it was Dordale's turn to play hosts in their infamous indoor venue but with all the bad weather it was a relief to actually be running. Rupert & I had a much more consistent day scoring 5 in all 3 of our runs, we were unlucky in the Agility as we came 5th and rosettes are only awarded to 4th but Rupert's consistency paid off as he was the 2nd best scoring Bromsgrove dog that day. Dordale won - quite conclusively this time with 184.5 to our 103.5.
The following week was our rescheduled home match against Golden Valley. Rupert had another consistent day this time going clear in all 3 sections so we won a Clear Round Rosette in the Agility and were 3rd in the Jumping. Rupert was named Bromsgrove's Dog of the Day which was a very proud moment. Plus Bromsgrove won the Agility (another first for this year) and the Relay so this was our closest match yet - just 4 poins in it! Bromsgrove 142 and Golden Valley 146.
We have one more fixture to go - a reschedule of our home match against Worcester on 15th March.
Agility Addicts
2007
My Mum & I attended the March 30th Agility Addicts where Rupert got 2 Eliminations in the Elementary Agility and a cricket score in the Easter Egg race, he was really clowning around by the Easter Egg Race and walked up the long jump with a huge grin on his face. Toby got 2 Es but stayed in the ring for both of his runs. It was a fun day out and a great show for our first experience of individual competition.
The next Agility Addicts show was the 14th April. Rupert & I were E'd on our first Agility Run but went clear on our second! We were just outside the places with the 11th fastest time and got a lovely Clear Round rosette. We also scored our first point for the Toller Agility Leage non-KC competition. Toby had also improved and was with my Mum for much more of the course, no rosette this time but it must only be a matter of time now!
We didn't make it to another Agility Addicts show (or in fact any Agility show for that matter) until 25th November. Our first competition of the day was the Large Elementary Agility and we were E'd on our first run, however, we did a nice slow, steady Clear for our second and picked up our 2nd Clear Round Rosette and, therefore, our 2nd Toller Agility League point of the year. We did even better in the Large Elementary Jumping. We had a pole down on our first run but stayed clear on our second and were fast enough to earn 8th place earning us a massive 8 points for the League. This brings our total in the 2007/2008 non-KC competion to 10 points, which I don't think is bad from 2 shows (the League runs from April-April). Toby also had an excellent day- in the Small/Medium Elementary Agility, he notched up his first non-elemination, which was clear and earned him 8th place - way to go!
*Update* - Rupert finished the year in 6th Place on the Toller Agility League Non-KC Leader Board for 2007/8 and was awarded a beautiful rosette.
2008
Rupert and I finally made it to an Agility Competition for the August Agility Addicts show - our first one this year. It was also Rupert's first show jumping at Standard height (in between Large and Medium). We were E'd in our first Jumping run (we had already had a pole down so when Rupert took the wrong course I carried on rather than interrupt the flow!) On our second Jumping run we were Clear! Then we were clear on both Agility runs. We picked up 5R in the Speed Jumping and then in the Touch and Go we were clear on the contacts but I forgot to shout "left" in the "Go" section so Rupert went straight on - another E but we had fun. So we came out of the day with 2 Clear Round Rosettes (only the best run counts) plus my Mum and her dog, Toby, had a clear in the Jumping so a good day all round.
Our next outing was the Halloween Agility Addicts. Rupert was clear in both his Agility runs and I was thrilled when they posted the results and saw that he had come 3rd in the Elementary Agility (Large/Standard). He was the fastest Standard dog in the class coming in behind 2 Large dogs. He really flew around the course and I was so proud of him. We also went clear in the Catherine Wheel (a Halloween themed helter skelter) which was quite a complicated course. I was really pleased to get a CR. Mum and Toby also had an excellent day - Toby was E'd in his first run but flew on his second to end up in 2nd place in the Elementary Agility (Small/Medium/Toy).
NSDTR Club Funday 2006
There is always a "have a go" agility at the NSDTR Club Funday run by members of the Agility League, Rupert really enjoyed doing the course this year. He did really well, our only mistake was missing the entry for the weaves but I think that is much more likely to be handler error than his!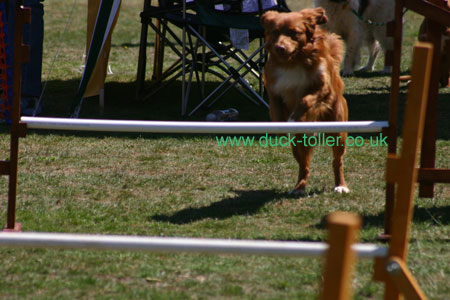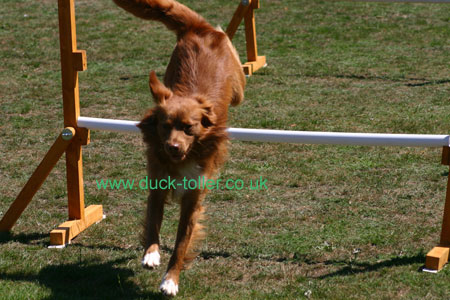 Copyright Rachel J Bradley 2006-10