Return to Rupert's Puppy Index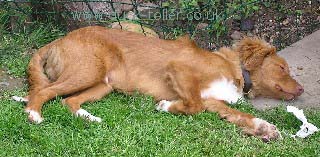 Camusmor Knockando
Five months old
Rupert is really growing up now, you can see how much he has grown by comparing him to Spud.
What a handsome pair!

He might be growing up,
but he still looks cute asleep!
And just to further underline how handsome he is getting, look at him in these photographs.
Return to Rupert's Puppy Index
Copyright &copy 2004 Rachel J Bradley